Where do I enter the building? We have a new entrance for the 2023 show! Please use the Cameron Street Lobby entrance to enter the show.
What are the show hours? You can find the show hours here.

How to purchase tickets? Ticket can be purchased online or at the show entrance. No paper tickets will be mailed. Online tickets must be printed after purchase or shown on a smart phone at the door.

Where is the PA Farm Show Complex and how do I get there? You can find directions to the PA Farm Show Complex here.

Are tickets good any day or are they date specific? Tickets are good for any one-day admission.
Not done shopping? Need to come back a second day? No problem! Stop by the box office on your way out and purchase a second day ticket for the discounted rate of $6.
Is there a charge for parking, and where do I enter the lot? Please enter the PA Farm Show Complex using Gate J/Main entrance see below map and you will be directed by parking attendants to available spots. The PA Farm Show Complex charges $10.00 per vehicle for parking. Note that parking services are now CASHLESS, and fees must be paid by credit card only (Visa or Mastercard debit, credit or gift cards are accepted).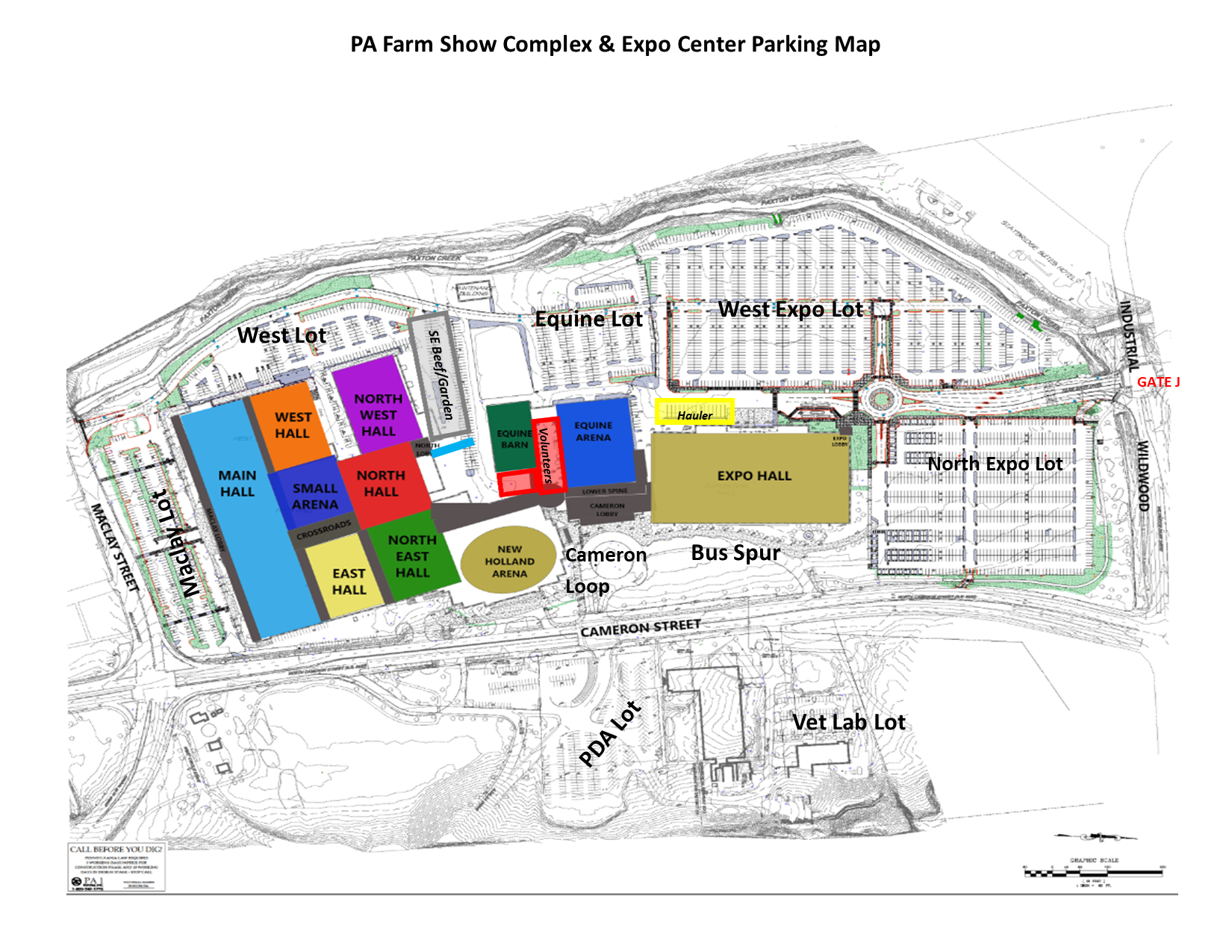 Are all of the vendors there every day? Yes, all vendors are there every day with the exception of those who, for religious reasons, don't work on Sunday. However, their booths are still up for your perusal and contact information is provided should you wish to purchase something. Some of them have workers staffing the booths who do not have a restriction against working on Sundays.

Is there a schedule for the Entertainment? Yes, a stage schedule will be on the show feature page closer to the show dates and will be in the show guide provided at the door.

Can I take pictures? Usually, yes. But you should ask permission of our vendors before taking pictures of their displays, and then only take the picture once permission is granted.

Is there a Coat/Package Check? Yes, the Shop and Drop and Coat Check is located in the Giant Expo Hall. We've partnered with the New Beginnings Youth & Adult Services of Dauphin County to provide these services. There is a suggested donation of $3 to check your coat or package. Or you can donate a toy for their Christmas Celebration.

Are there places to sit and rest? There are many places to sit and rest. We have park benches scattered throughout the show, there is seating in the Lounge located in the Giant Expo Hall and by the stage in North Hall. Seating is also at some of the Snack Stands, and there is additional seating in designated hallways and lobbies.

Are Wheelchairs available? Yes. Push wheelchairs are available for use free of charge on a first come, first served basis. Just leave your license or Identification card with us and we'll give you the chair. When it is returned to us, your license or Identification card is returned to you.

Are strollers allowed? Yes, strollers are allowed in the show.

Is food available at the show, or may I bring my own? There are several snack stands on the Main Show Floor. There is a 600-seat Cafeteria on the second floor that is accessible by stairs or an elevator serving hot and cold meals. The policy of the Farm Show Complex is that only food purchased on site can be consumed there, but there are exceptions for those with food allergies and/or dietary restrictions. **PLEASE NOTE CONCESSIONS IS CASHLESS. You must purchase with a credit, debit card or select cash apps.**

Can I drop people off at the door? Yes you can, then the guards will direct you to park.
Are dogs allowed in the show? Only service dogs are allowed in the Complex and must be on leash at all times.