SCAM ALERT FOR VENDORS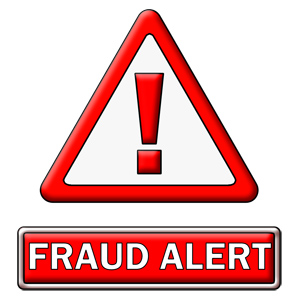 As per our privacy policy, Marketplace Events is a permission-based email sender. We do not share, rent, or sell any email lists.
2023 information is being added to this page as it becomes available. Please continue to check this page for updates.
Holiday Decor
It is required for all vendors to incorporate holiday decor in your booth.
2022 Vendor Manual
Please read this manual early, and refer to it throughout your planning. Updates are made to this document periodically.
CLICK HERE TO READ THE VENDOR MANUAL --- 2022
the 2023 Vendor Manual will be published soon.
2023 MOVE IN SCHEDULE AND MAP
Click HERE to open a PDF that can be enlarged, downloaded, or printed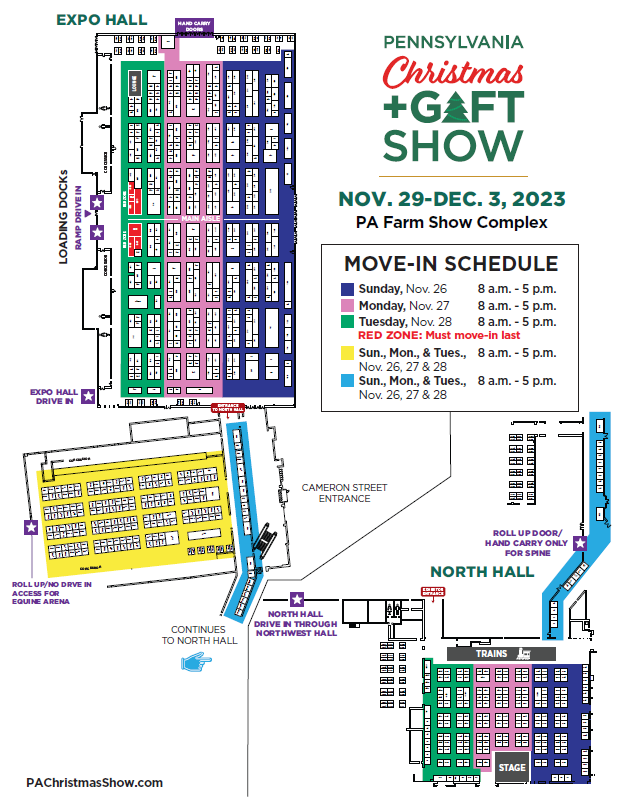 Social Media Tips
Click to read up on our Social Media Tips and find out lots of great ways to use Social Media to promote your presence at the PA Christmas +Gift Show!
SCAM WARNING
There have been a number of spam emails offering our attendee lists. These are scams and the senders are unauthorized to use the Marketplace Events' name. These scammers are attempting to receive monies from exhibiting companies without providing anything in return. These emails are not approved by Marketplace Events, and Marketplace Events would never ask for bank information or other sensitive information over email.
CLICK HERE for more information.
PARKING
We are able to sell a 5-day parking pass for $40. This is good for all 5 days of the show. (you will not be charged for parking during move-in). Order in advance to reduce delays on site. Pick up your parking pass at the Show Office during move-in. Contact Maddie Rice at 440-591-6966 or MaddieR@mpeshows.com or contact anyone on the Show Team to order. You can use the Onsite Services order form for parking passes, as well as electricity and storage. Click HERE
Additional information on single-day parking, trailer parking, and overnight RV parking available - see pg 12 in our Vendor Manual above.
Note that if you elect not to purchase a 5-day pass, the parking fees are now CASHLESS at the venue, and you will need a credit card at entry.
2023 PARKING LOT MAP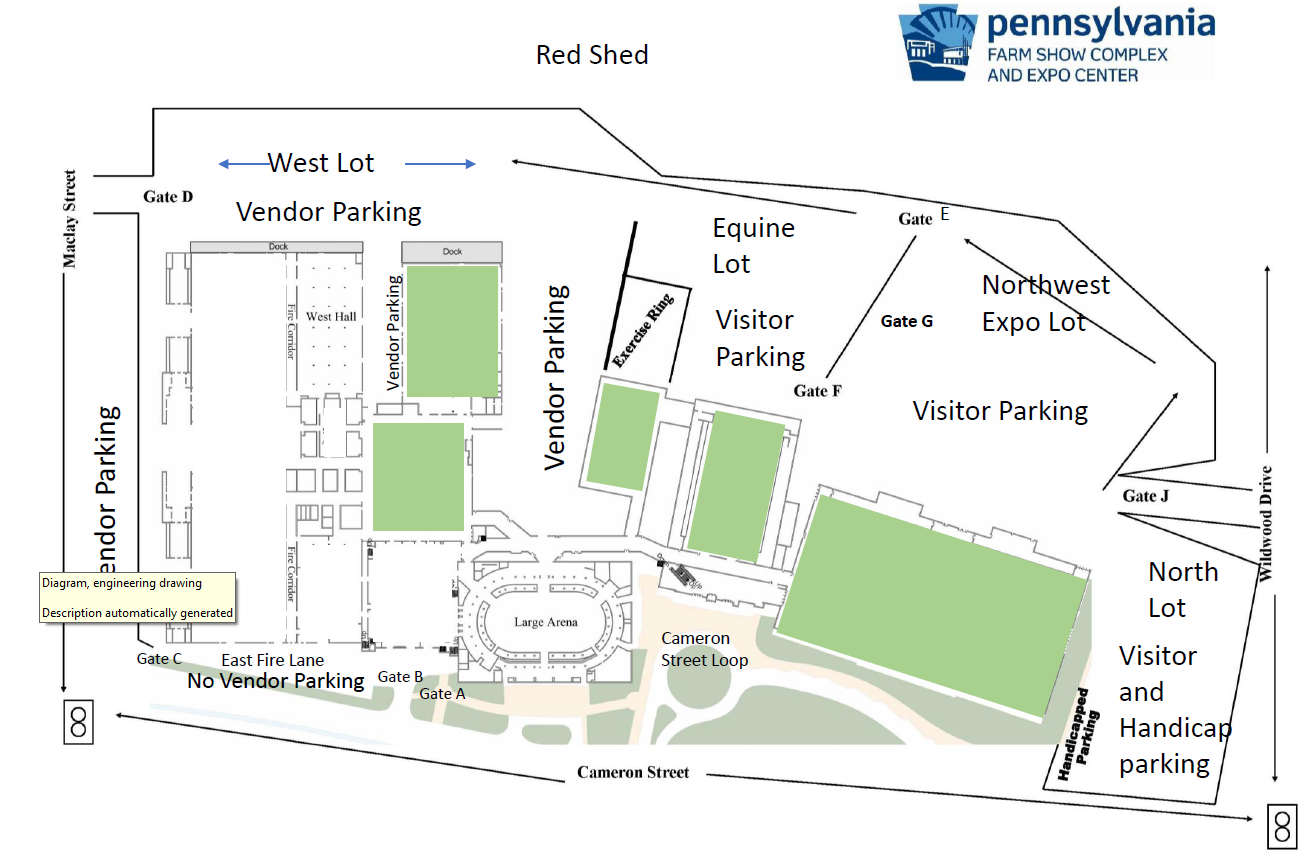 To increase customer satisfaction, it's extremely important that you park in the assigned vendor areas.
Please use Gate D to enter for vendor parking.
TRAILER Parking:
If you have a trailer that you do not need access to during show hours, please park it at the Elmerton Lot, which is a free parking area. Aerial view below.
If you must park your trailer onsite, please use the vendor parking area near the exercise ring. The Farm Show charges $25/day for trailer parking. You can arrange this with venue staff onsite.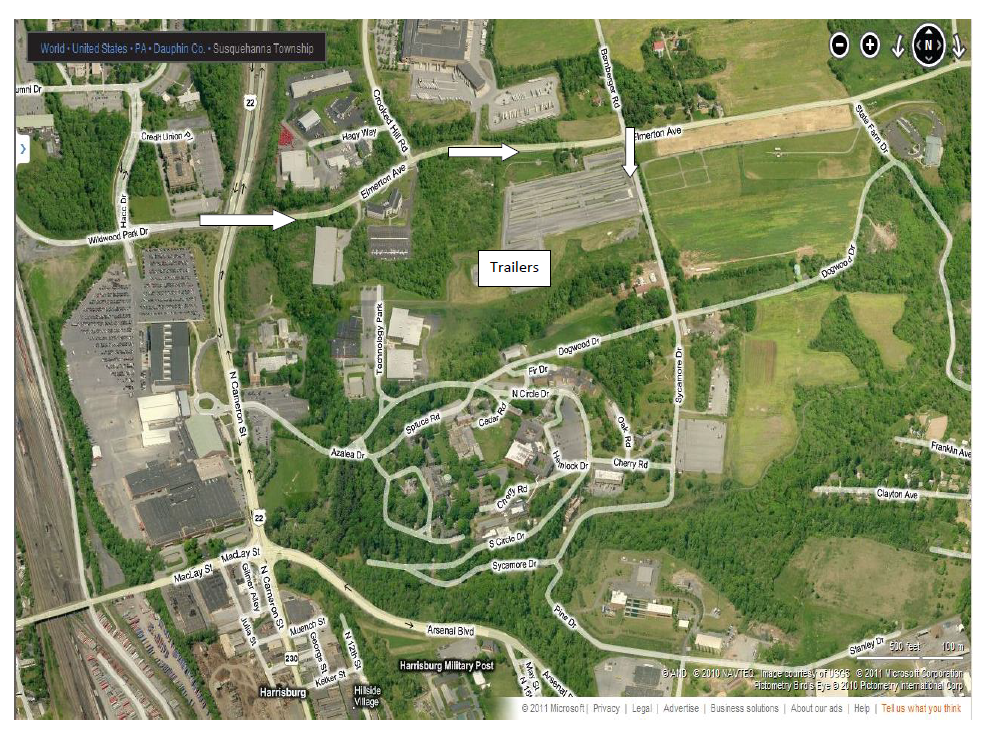 HOTEL INFORMATION
We recommend stays at the Best Western Premier - The Central Hotel & Conference Center, and have a room block with a special rate of $82.95 available until 10/16/2023 (while supply of rooms lasts). For reservations by phone: call 717-561-2800 and mention the Attendee Room Block for the PA Christmas & Gift show. Special room rate of $82.95 available until 10/16/2023. For online booking: CLICK HERE

Best Western Premier
The Central Hotel & Conference Center
800 East Park Drive
Harrisburg, PA 17111
717.561.2800
RV Parking is available onsite at the PA Farm Complex - see page 12 of the Vendor Manual, linked above
Additional hotel options are also noted in the Vendor Manual, as well as the Show Info page of this website
ENHANCE YOUR COMPANY'S ONLINE VENDOR LISTING
Your basic listing will be uploaded to the website when you book your booth. Within 24 hours you will receive an automated email to enhance your listing. This link can be used multiple times and you can make updates and changes to your listing until ONE day after the show commences. If you have any questions regarding the online vendor listing or do not receive the link, please email our digital support rep, JenK@mpeshows.com. Need help with your listing? Read the FAQs.
Learn more about the benefits of creating your enhanced listing.
Go from basic to ENHANCED!
HOLIDAY BOUTIQUE SHOP 2023
The Holiday Boutique SHOP will be available to all holiday show vendors in 2023!
One store, ONLINE. All the shows! Opening on August 15th, the shop will be promoted to multiple markets and display products from sellers across multiple shows – that means more shoppers! If you have yet to receive your invitation to be a part of a brand-new way to connect with shoppers online and beyond the show floor, connect with us. Reach out now to receive your invitation to start selling at HolidayBoutiqueSHOP@mpeshows.com.
Invite your customers to shop the show!
Upload the photos above to your social media, email blasts, and website to promote your company's participation at the 2023 PA Christmas + Gift Show.
Click on the photos to enlarge picture. Right-click on the image and select save-as to save onto your computer.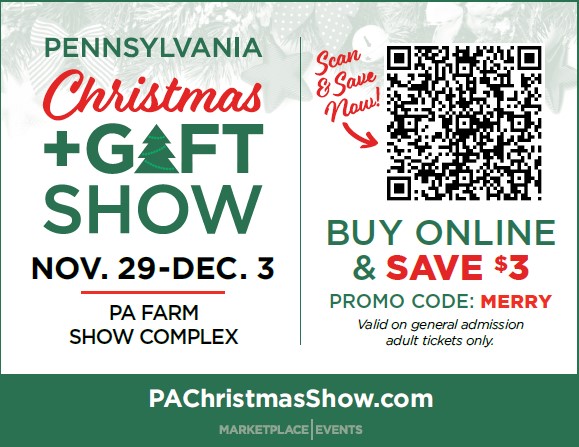 Click, download and print postcards to give or mail to your customers.
QUESTIONS?
Click HERE to see contact information for the Show Team